Mi brinemo. Mi Vas štitimo.
… ali svaki strah je opravdan.
Uvijek pazim da moji pacijenti osjete što je moguće manju bol...
...međutim, mnogo stomatologa pati od bolova uzrokovanih radom. Mišićno-koštani problemi u vratu, ramenima i donjem dijelu leđa najčešći su razlog (29.3%) prijevremenog odlaska u mirovinu, pa čak i gubitka posla kod stomatologa diljem svijeta1. Uvid u 34 pisana članka, pokazao je vrlo visoku prevalenciju mišićno-koštane boli među stomatolozima (25-100%)2. Oni troše više od 41 milijuna dolara godišnje kako bi mogli nastaviti raditi3. Zbog boli i neudobnosti, stomatolozi su morali odgoditi i/ili otkazati termine 1.3 milijuna pacijenata4.

Ako idete na posao i liječite dok osjećate bol, više se koncentrirate na sebe nego na Vaše pacijente koji to odmah primijete. Posljedica toga može biti gubitak njihovog povjerenja.

Izvori
1 Burke FJ, Main JR, Freeman R. The practice of dentistry: An assessment of reasons for premature retirement. Br. Dent J 1997 April 12; 182(7): 250
2 Kumar SP, Kumar V, Baliga M. Work-related musculoskeletal disorders among dental profissionals: an evidence-based update. Indian J Den Educ. 2012;5(1):5-12.
3 D. Shugars, D. Williams, S. J. Cline, and C. Fishburne, "Musculoskeletal back pain among dentists," General dentistry, vol. 32, no. 6, pp. 481–485, 1984.
4 Bhandari, Shikha Baaghi, et al. "Musculoskeletal Disorders in Clinical Dentistry and Their Prevention." J Orofac Res 3.2 (2013): 106-14
Bol u leđima za vrijeme liječenja
1 minuta na sat za opuštanje zbog mišićno-koštane boli
8 minuta dnevno
160 minuta mjesečno
= 1920 minuta godišnje
Oko 32 sati ušteđenog vremena godišnje!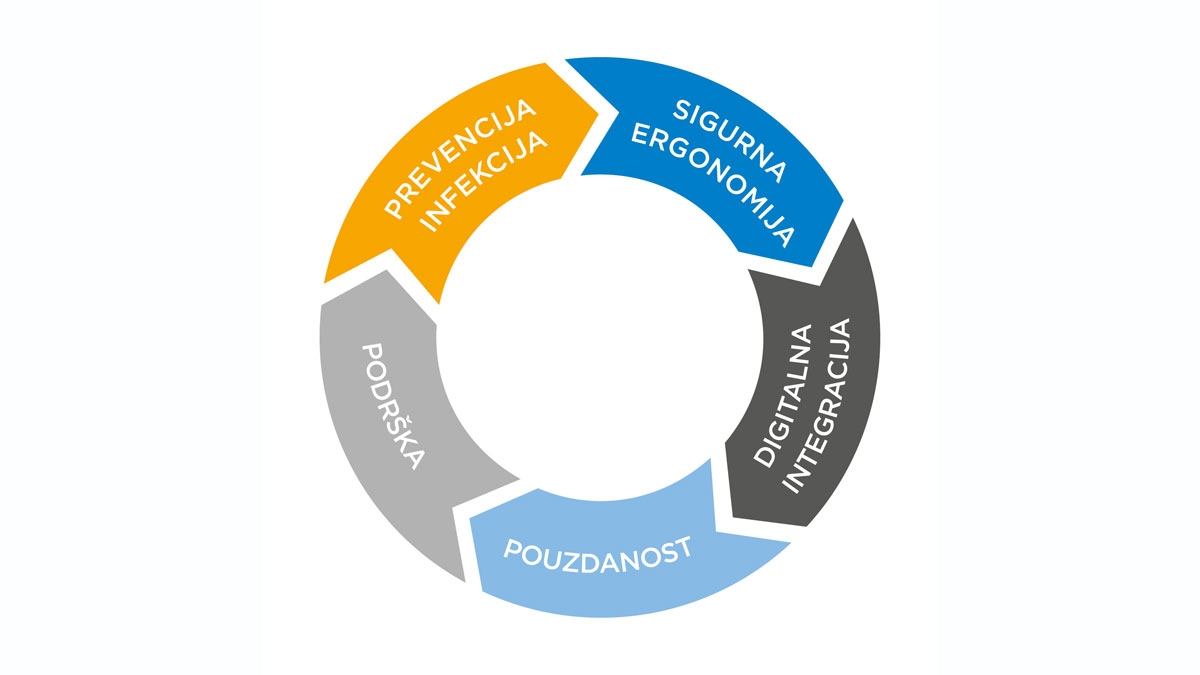 Vi znate bolje utrošiti ovo vrijeme. Mi također.
Saznajte više o našim stomatološkim jedinicama.

Kontaktirajte nas
Želite znati više? Kontaktirajte nas:

Miloš Obradović
Product Specialist Treatment Centers & Instruments
CEE South
Telephone +385 1 5497 919
Mobile +381 62 24 00 28
milos.obradovic@dentsplysirona.com